Custom Branding
Custom products and packaging is an effective way to market your brand and differentiate your company from the other competitors. Branding capabilities allow you to add a special level of professionalism to your business.
We offer custom branding options for the whole range of our disposable wooden cutlery/wooden tableware range.
Custom Branding - Disposable Wooden Cutlery

We have an elite R & D team for in-house design and prototype development. We can help you create the desired products to meet the specific market demands.
Custom design/shape disposable wooden cutlery is feasible through custom tooling. Besides, we can do custom printing at the wooden cutlery handle by screen printing(multiple-color printing available), hot stamp, and laser printing.
Custom Branding - Disposable Wooden Cutlery Sets

1) Wrapper/Pouch
For disposable wooden cutlery sets, you can choose either with paper wrappers or with paper pouches. The paper wrapper we use for auto-packing is LAMINATION-FREE, PLASTIC-FREE. The traditional paper wrapper comes with PE lamination that is used for heat sealing the cutlery pack. Our innovative bio paper wrapper is plastic-free, 100% compostable. Custom print is available for both paper wrapper and paper pouch.
2) Napkin
You can also choose to use a custom print napkin to enhance your brand marketing for disposable wooden cutlery kits. We offer both bleached and unbleached napkins, 1/16 fold, 2-ply. Standard napkin size: 23x23cm.
3) Pre-Rolled Napkin Cutlery Kit with Paper Band
If you aim at high-end catering or food service, pre-rolled disposable wooden cutlery kits could be a great eco-friendly option. We can do custom print on the paper band to enhance your brand image.
Custom Branding - Disposable Wooden Cutlery Product Packaging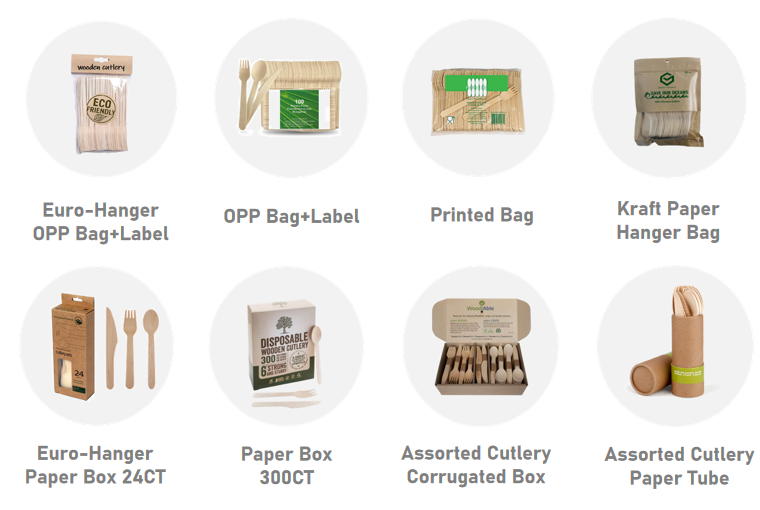 We can customize the disposable wooden cutlery product packaging according to your request. Give us your ideas, and we will take care of the rest!